Our hostel is the right place for groups and students who want to reach the center of Bellinzona and the railway station within few minutes and a good starting point for excursions and many activities.
To receive an offer that meets your needs, we kindly ask you to send us an email to bellinzona@youthhostel.ch with the following information:
Arrival and departure date, number of participants (girls/boys / female and male teachers/coaches), name of the school/organization, full address and phone number.
Please check the prices
INFORMATION AND RULES
for groups
During your group's stay in our hostel, you will be responsible for making sure that the members understands and respects the house rules, especially our curfew between 10 pm and 7 am.
Check-in
Check in time is between 3 pm and 7 pm.
the room keys are given only to the group leader.
Make sure that the bed sheets provided and placed on each bed are properly used.
Please have the Group list, with the names of all group members, written clearly and ready at check in time.
The bill has to be paid at the Check-in or in advance. We do not make any Invoice!
Our parking is not big enough for coaches. Attached to your booking confirmation you will find a city map of Bellinzona with indications about parking spaces for coaches.
A deposit payment of CHF 200.00 cash or by giving a personal document.
If somebody smokes in the building, drinks alcohol (under 18 years old) or doesn't follow the rules and makes noise during the night, the hostel will keep the deposit.
Check-out
Check out time is between 8 am and 10 am. Please let us know if you are leaving before our opening hours.
You are responsible for returning all the keys (CHF 5.00 for lost or broken key). Also, check that the rooms are left in a decent manner; please take everything (like bottles or papers) from the floor and from the bin. Containers for glass, batteries, paper, metal, organic and PET-bottles are placed on each floor. We will go on a room-check together.
On each floor there are containers for the used sheets. Please put them there before breakfast.
Please inform us if anything is broken or damaged before departure.
The deposit of CHF 200.00 will be returned at the check-out if everything is okay.
MEMBERSHIP
youth hostel membership card for groups
For Groups living in Switzerland
The membership card for groups (at least 10 people) is required in every Swiss youth hostel. Each group MUST have one!
The card is valid worldwide for 12 months from the date of issue.
The card can be ordered in advance at the following address:
Schweizer Jugendherbergen
Schaffhauserstrasse 14
8042 Zürich
bookingoffice@youthhostel.ch
Tel. 044/ 360 14 14
OR issued on the arrival day in every Swiss Hostel (SJH).
There are two kinds of membership card for groups:
GROUP membership personal
The group card is personally issued and
can not be transferred to other people.

Price: CHF 55.00
GROUP membership impersonal 
The group card is impersonally issued and
can be transferred to other people
of the school/organisation.
Price: CHF 99.00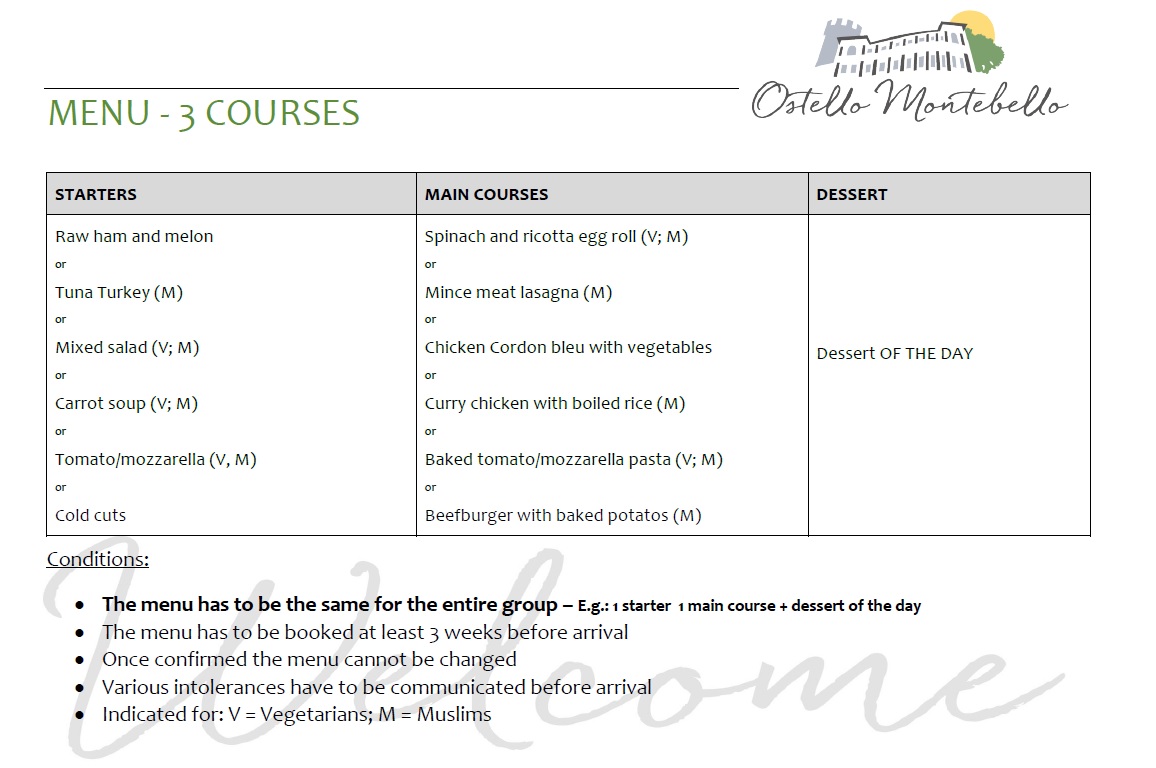 Meals have to be booked at least 3 weeks before arrival. SUNDAYS THE RESTAURANT REMAINS CLOSED!
Dinner menu a 2/3 dishes CHF 15.50 per person
Pasta with three sauces CHF 14.00 per person
Grill CHF 18.50 per person
Pick nick CHF 12.00 per person
The breakfast and all the other dishes are prepared and served in the name of Cronoparty & Services Sagl.